New Features
If you already know the earlier versions of Cardbox for Windows, these pages summarise the improvements and new features in Cardbox 3.
Manuals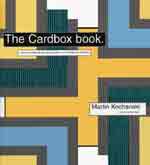 Cardbox 3 has a 300-page colour manual that gives you an in-depth understanding of every aspect of the program. However advanced the on-line help may be, there is no substitute for a book when it comes to learning the basic concepts of a program, and The Cardbox Book is intended to take you all the way from beginner to expert. It is backed by unique "Help Points" - electronic footnotes in the help file, giving you additional explanations and detailed examples. It also contains a gallery of inspiring examples of how people have used Cardbox, and worked exercises showing you how to create basic Cardbox databases.
You can download The Cardbox Book free of charge in PDF format. (Details)
Additional manuals cover advanced features: Macros and Programming, and The Cardbox Server book for multi-user networking versions.
Windows
32-bit program compatible with all versions of Windows. Revised keyboard shortcuts and menu layout. Uses the Registry for settings; controllable by Windows Scripting. (Details)
Major Functions
Searching: Boolean searches, phrase searches, adjacency searches. (Details)
Editing: Find, find-and-replace, new spelling checker. (Details)
Display: drop-down lists. (Details)
Other: database deduplication; Unicode support. (Details)
User interface and Help
User interface revised and simplified throughout; more wizards. Workspaces to keep your projects organised. Extensive popup help; per-database help; sample databases; Help Points. (Details)
Images and documents
Direct scanning; more image input formats; simpler compression options. Scaling and rotation; zooming. (Details)
Outside World
Web and email links; OLEDB data import; XML file export; VBScript programmability. (Details)
Macros & Programming
VBScript programming language; revised macro editor and recorder; can drive external programs directly. (Details)
Networking & Internet
Databases shared through client-server operation: on LAN or across Internet. Securely encrypted data links. Live backup commands for uninterrupted operation. (Details)
Compatibility with earlier versions
Seamless, except for: image databases (need to be upgraded the first time they are used); macros (need to be rewritten or re-recorded); networking (Cardbox Server replaces the old file-sharing system). (Details)